Dennis Span is an IT professional working for a large insurance company in Vienna, Austria. He has more than 15 years of experience working with virtualization technologies and automating these technologies. He has a Bachelor of Economics (BEc.) and a Bachelor of Science in Engineering Management (BSc.).
Dennis speaks and writes Dutch, English, German, Slovak and Spanish.
Born and raised in the Netherlands, he moved to Austria in 2004. Dennis is married and has two children. Besides spending time with his family and his interest in IT and blogging, his hobbies include rowing, snowboarding, basketball, movies and video games (if there is time :-).
Disclaimer
This is a personal weblog. The opinions expressed here represent my own and not those of my employer. All data and information provided on this site is for informational purposes only. Dennisspan.com makes no representations as to accuracy, completeness, currentness, suitability, or validity of any information on this site and will not be liable for any errors, omissions, or delays in this information. All information is provided on an as-is basis.
In September 2017, Dennis was awarded the status of Citrix Technology Advocate. This is truly an amazing honor, especially if you see the list of distinguished people that make up the CTA class of 2017.

My current certification status is:
Citrix Certified Expert (CCE-V, for XenDesktop 7 and 7.15)
Citrix Certified Integration Architect (CCIA)
Citrix Certified Enterprise Administrator (CCEA)
Citrix Certified Sales Professional 2013 (CCSP)
Citrix Certified Advanced Administrator for Citrix XenApp 5
Citrix Certified Administrator for Citrix XenApp 6
Citrix Certified Administrator for Citrix XenApp 5
Citrix Certified Administrator for Citrix XenApp (Presentation Server 4)
Citrix Certified Administrator for Citrix Access Gateway 4
Citrix Certified Administrator for Citrix EdgeSight 4
Citrix Certified Administrator for Citrix Password Manager 4
Citrix Certified Administrator for Citrix Provisioning Server 5
Citrix Certified Administrator for Citrix XenServer 5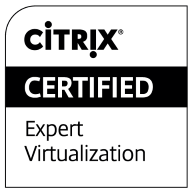 If you like my posts than please follow me on Twitter or LinkedIn to receive the latest updates. You can also contact me using the form below: